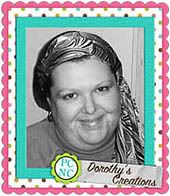 Name: Dorothy Howell

Resides: Basildon, UK

About me: I'm an American living in the UK with my hubby of 10 yrs John, my 19 yr old daughter Aurora and 2 furbabies, Buster and Paris.
I started out crafting when I was just a kid. My Mother is a very talented artist and avid sewer so my sisters and I were drawing, colouring and painting ever since I can remember. My neighbour taught me how to crochet a little bit and to handsew, a skill that I still use today to hem hubby's trousers or sew on a button.
In my 20's I ended up working in a US National chain craft store where I learned a lot about all different types of crafting. While there, I taught a couple of classes, wreath making and fabric painting, which I loved. I fabric painted trainers, shoes, t-shirts and jeans.
In my early 30's I was in a car accident. It was a serious one too that left me a paraplegic from a spinal cord injury. I received my first computer as a gift from my Father. The first program I received was Paint Shop Pro 6. There is where my love of digital graphics began.
After years of taking photos of my daughter growing up, I started an interest in scrapbooking but it was hard to get to the craft shops to buy things plus I didn't really have to room for all the mess. Then 8 yrs ago I came across digital scrapbooking. That was something I could do! So I DID! After about 6 months I wanted to design my own digital graphics for my layouts so
I purchased Photoshop CS and
took a designer class via Yahoo Groups.
I eventually sold my digi scrap kits in a few online shops. But my Crafter self came out and I ended up making greeting cards, boxes and other crafty goodies with my digital images instead. Now my daughter is all grown up and I've dedicated all my designs to cardmaking and crafting. I know I'll be scrapping again though...one day I'll have grandchildren photos to scrap! Woo Hoo!
I love being a digital graphics designer and really enjoy creating hybrid scrap pages, cards and crafts using my computer and inkjet printer. Hope you will join me in scrapping and crafting the HYBRID way!